I fell in love with paella on my honeymoon in Barcelona. Eating fresh seafood on the coast or eating a mixta style further inland, the versatility of the dish and ability to improvise with ingredients is fun and artful. And of course the beautiful presentation of the delicious shrimp, chorizo, chicken, calimari, mussels, clams, all placed neatly in a bed of golden saffron rice is both functionally and aesthetically beautiful! My wife gave me a paella pan a couple years ago, and we have been experimenting ever since. First paella was on the stove. Then multiple paellas on the charcoal BBQ. Some temperamental charcoal caused one paella to burn on the bottom and remain undercooked on top, so my wife got me a 2-ring propane burner that would accommodate our 40cm and our 55cm paella pans. Since receiving the burner, making paella has been far more predictable and enjoyable. I have been meaning to document one of my paella recipes, and finally I took the time to carefully measure and keep track of my steps. In addition with sharing my recipe, I now have a grocery list for future paellas!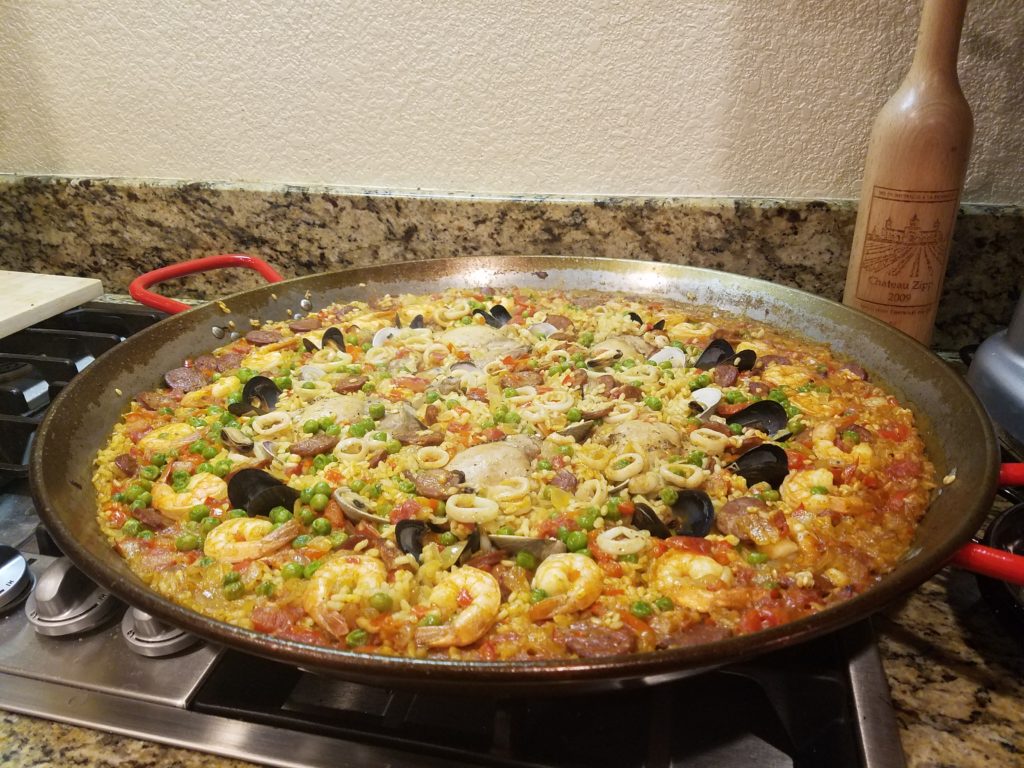 20170121 paella for 4 (with plenty of leftovers!):
Based on the mixta paella recipe in La Paella
In Stockpot:
1lb clams simmered 30′ in 5c h2o
In saute pan:
0.5lb mussels simmered 5′ in .33c h2o
In 55cm pan over medium burner:
Olive oil as needed
1lb boneless chicken thighs, fat trimmed, salt and peppered, par cooked and set aside.
1 onion diced
1 red pepper diced – cook down with onion
14.5oz can diced roasted tomatoes
11oz chorizo sliced
3c paella rice (Matiz black label)
0.5tsp sweet pimenton, 0.5t spicy pimenton
0.5t saffron
1.5c peas
5c stock from simmered clams
0.33c stock from mussels
3c chicken stock
20 ish shrimp, quick sear on one side, placed around edge in rice/broth
.4lb squid cut to rings, quick fry and placed across the top
Cook until rice is done, cover with foil and let rest 5 minutes. Serve and enjoy!
A few notes:
The 55cm pan can handle way more volume than this, but I would rather go low on the big pan than overload the smaller pan. Also I sparingly add mussels. I prefer the clams, shrimp, and the Spanish chorizo, but that's just my taste. And don't drink too many beers or rioja while making la paella- that can complicate things in a hurry!
-BZ